Home
Puerto Aventuras Blue House Marina And Residence
Puerto Aventuras Blue House Marina And Residence
Property ID: 2577
Puerto Aventuras,
Mexico
2 Bedrooms

2 Bathrooms

1431 sq ft
Paul Smith
Contact Agent
Description

Puerto Aventuras Blue House Marina Residence
Puerto Aventuras Blue House Marina Residences, an exclusive development of neoclassical architecture with contemporary touches that highlights the taste of its simplicity, the purity of its architectural lines and columns that provide balance and beauty in its entirety.
Blue House Marina Residence is the perfect combination of lifestyle; adventure, security, elegance and comfort, all in one place.
Its perfect combination between colors and textures emanate a sense of peace and tranquility in which
colors are inspired by the blue of the sea, the white of the clouds and earthy tones that make
remembrance of the fine sand of the Caribbean.
Swimming Pool
Gym
Yacht Club
Restaurant
Snack bar
Cabanas
MarinaKids Club
Concierge
Searay boat
Jet Sky
About Puerto Aventuras
The exclusive and serene seaside community of Puerto Aventuras offers plenty to do, especially for nature lovers. It's a hub for water activities like deep-sea fishing, snorkeling, sailing and SCUBA diving.
Not far along the highway you'll find eco-parks, ancient Mayan ruins, and naturally beautiful swimming holes called cenotes. Would you like to shop a little? Visit nearby Playa del Carmen and check out famous pedestrian thoroughfare, 5th Ave. Staying in Puerto Aventuras means you're close to a variety of full-day and half-day excursion options.
WATER ACTIVITIES
SPORT FISHING
Deep-sea fishing in the Caribbean is an awesome experience. You're out on some of the most crystal-clear, stunningly blue water on the planet. You'll see sea turtles and flying fish in their natural habitat as you coast along the sparkling water. Even a bad day fishing is still great!
Sport fishing is easily the biggest draw for most visitors to Puerto Aventuras. As the only marina in the region, here is where you'll find the beautiful array of all kinds of fishing trawlers and modern sport fishing boats.
There are many sport fishing operators. The vessel captains and crew are all extremely well-qualified and love what they do! They'll try their hardest to land you mahi mahi, sailfish, barracuda, marlin or wahoo. The crew and office staff are also honest about conditions and endeavor to give you the best experience possible.
KAYAK OR SWIM WITH DOLPHINS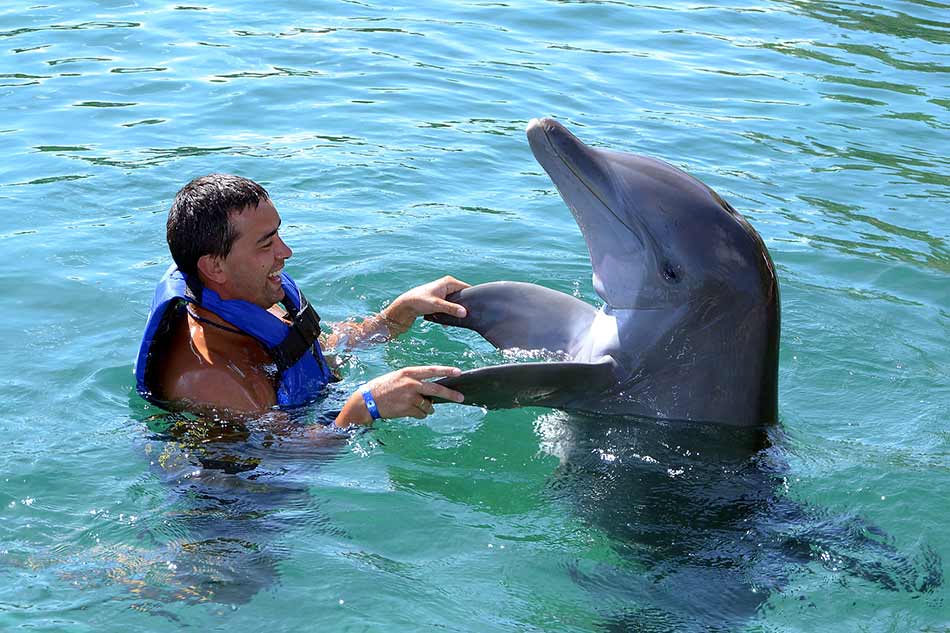 There are two Dolphin Discovery locations where you can interact with these friendly creatures. There are various packages to choose from, ranging from being propelled through the water by dolphins, or simply feeding them and posing for pictures.
Kayaking with dolphins is a great option if you don't want to get wet! Visit the secondary lagoon near the Dreams Puerto Aventuras Resort to check this out.
SNORKELING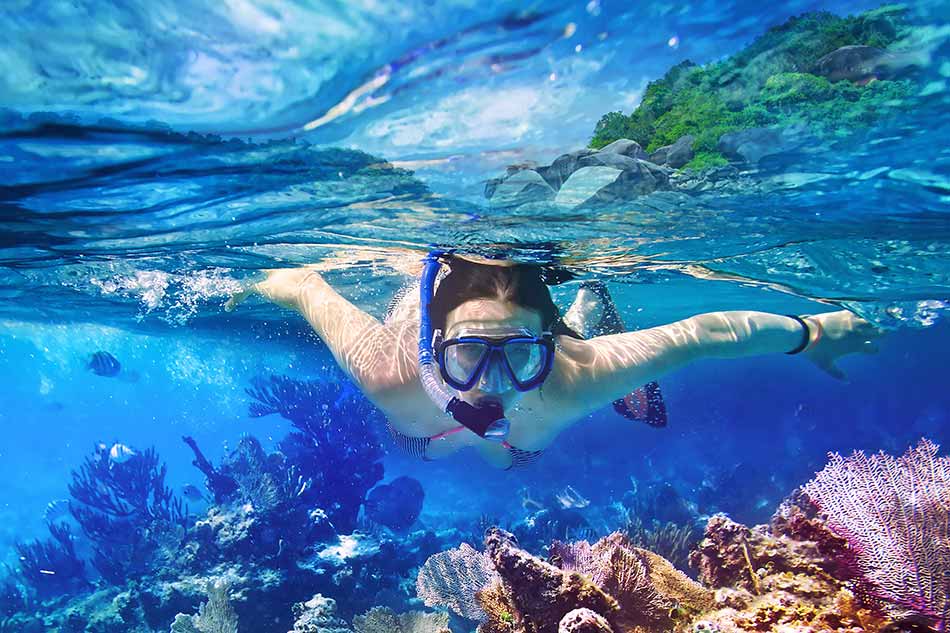 If you're looking for a self-guided snorkeling adventure, visit Chan Yu Yum. It's a public access beach on the north end of Puerto Aventuras. This is a fun and relaxing day the entire family will enjoy. If you haven't brought your own snorkel gear, you can rent some at one of the dive shops on the marina.
Dive shops around the marina offer guided snorkeling tours of the reef just offshore. Well-equipped boats will take you and your family to several snorkeling sites and provide you with life vests and all the gear you need.
DIVING
The reef in Puerto Aventuras is conveniently only a hundred yards or so from the beach. The first platform of reef is only about 60 feet [18m] deep and will offer all you'll want to see. For the more demanding diver, there's a second platform stretching to depths of 120 feet [36m] and beyond.
There are also some stunning cenote dives to be had in the area around Puerto Aventuras. This is a unique experience that you won't soon forget! These flooded subterranean caverns are impressive, with crystal-clear aquifer water and stalagmite and stalactite formations. Popular cenote dives include Ponderosa (also known as Eden), Casa Cenote, and Dos Ojos.
Amenities
Air Conditioning
Private Parking
Close To Local Ammenities
Terrace
Patio
Communal Pool
24 Hour Security
Key Features
Gym
Yacht Club Restaurant
Snack bar
Marina
Kids Club
Concierge
Searay boat
Jet Sky